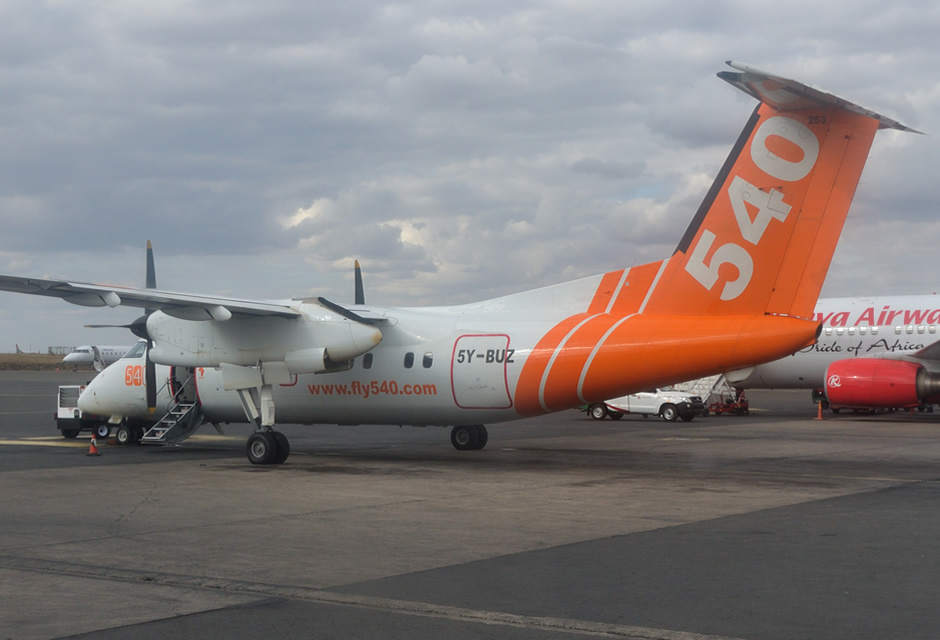 Fly 540 Lowers Fares Again for Regional Holidays
Information received from the Kampala office of Fly 540 confirms the buzz amongst travel agents and regular travelers to Nairobi that the fight for market share has just become a notch harsher and 'specials' are being put out by the airlines, and often superseded by yet better deals, just as soon as the ink on the promotional pamphlets has dried. Fly 540, which last week confirmed a fare of USD 268 return all inclusive has over the weekend lowered this to US Dollars 240, inclusive of all taxes and surcharges, applying pressure on their competitors Kenya Airways, which is facing renewed strike action if last ditch efforts to find a common basis with the Aviation and Allied Workers Union in Nairobi fail, but also vis a vis Air Uganda.
The latter recently introduced a third daily flight between Entebbe and Nairobi, going one up on Fly 540 – KQ operates 4 daily flights between the two airports – but from usually reliable sources it was learned that the flight occupancy was still needing more 'work' to meet expectations at this moment in time and U7 too was considering dropping fares in order to get extra passengers into their seats.
Air Uganda, according to another source, has offered a range of 'specials' for their flights between Entebbe, Mombasa and Zanzibar, indicating that market conditions are 'tough' and unless passengers can be found, and kept, the struggle for not just market share but also for financial viability is a steep uphill journey. To lure more passengers most especially leisure tourists who seek a safari in east Africa on this route they are presently offering a companion rebate of 50 percent on their US Dollars 319 fare (terms and conditions apply) for the second ticket, making this deal slightly cheaper than Fly 540 if traveling 'in pairs' and cheaper still with their 'family fare' which goes for US Dollars 959 for two adults and two children.
Meanwhile it was also learnt that Fly 540 had offered a special fare for weekend travelers from Uganda traveling to Nairobi for the African Cup of Nations qualifier at only US Dollars 210, to be also repeated again for the upcoming 'half term' holidays of local schools between 15th and 24th of October.
Uganda drew their match 0:0 with Kenya and presently tops their qualifying group to the joy of the 'Cranes' supporters who for long have waited to see Uganda return to the continental stages, leave alone of course making an appearance in a FIFA World Cup final for the first time ever.
Said one football fan traveler with 540 to this correspondent: 'at 210 Dollars I could not refuse to fly with Fly 540 and instead of spending a hundred or so dollars more with others, that money saved I used for my tickets and transport in Nairobi. And they have a very good aircraft, very comfortable'.
Related Posts