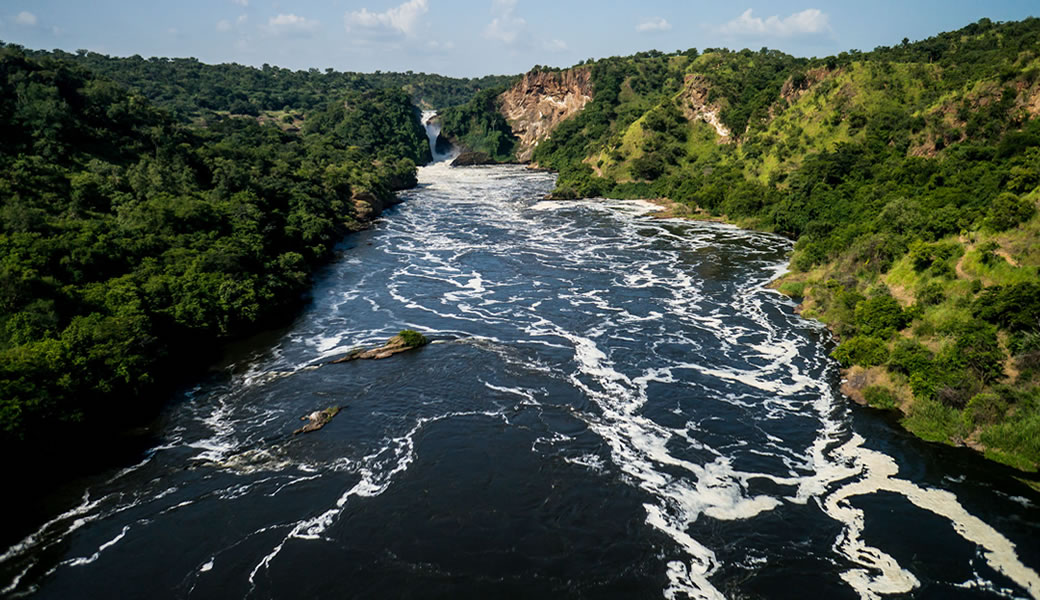 Discover Uganda's Beauty on the Mighty River Nile
White water rafting is one of the best things to do on a Uganda safari holiday! Taken along the Nile in Jinja, the adventure capital of Uganda, rafting is an outdoor adventure that will help you discover the country's unspeakable beauty. Reaching Adrift, a person books at their Kampala office at 14 York Terrace, Kololo in Kampala. The wide range of accommodation includes chalets, dorms and camping overlooking the Nile, to suit all budgets, ages and tastes. Additionally, rafters can purchase souvenir pictures of their Nile Adventures from professional photographers at the site.
With Uganda continuing to win more accolades for being a major tourism destination, more great wonders possibly not known to local tourists continue to emerge, astounding people who visit the Pearl of Africa.
A recent visit at Adrift that is little known to Ugandan tourists showed stunning scenery most especially at the Wild Waters lodge, the magnificent birdlife at the site and professional gracious guides and waitresses who all add an appeal of the Adrift rafting trip. Being the only adventure company having a one stop centre offering white water rafting, bungee jumping, jet boating and river surfing on the Victorian source of the Nile near Bujagali Falls in Jinja, Adrift has managed to attract attention of majority adventurers.
With a daily free shuttle from Kampala to Jinja, after booking at their Kampala offices with a modest fee of $125 (about 325,000) for a day and $115 (299,000) for half day rafting respectively, guides are always ready to offer you breakfast upon arrival and take you through the drills of white water rafting.
"You shouldn't carry any valuable save for the consortium you are going to raft in," Yasin Magembe, a guide said at a recent visit of Adrift.
Equipped with paddles, life jackets and helmets, guests are treated to an exciting paddling of the inflatable boat/rafting boat as you navigate through Africa's longest river, the Nile.
Minutes after the paddling, leads you to a great challenging but exciting experience as you are advised to hold on to the inflatable boat as the waves lead you to the rapid falls that force you down with the high water pressure.
With kayak operators and other rescuers waiting down the falls, one is most amused by the cheers from fellow rafters who have already completed the challenge giving an occurrence you can't find anywhere in Uganda.
As one is marveling the rafting challenge, Captain Gav Fahey comes in with his wild jetting battle racing up and down the Nile rapids. At about 90kilometer per hour, the boat that comes with propulsion directed from side-to side gives another experience as it spins up to 360 degrees similar to
driving a car in a muddy surface.
The challenge that goes for $75 (about Shs 19500) per person also gives an experience you will long to forget.
As one marvels the country's great wonders on the Nile, guides then take you to another exciting Nile High Bungee Jumping at a modest pay of Shs $115 (about Shs 299,000). Here, one is taken to a Nile High Tower of about 44meters and left to jump to the bottom with the first bounce near the water before rebounding high above the river and back.
Mr Fahey says the challenge is 100 percent safe and is built and operated to high specifications. "Because our tower has been built and operated to such high specifications, jumpers are much more likely to get injured on the road travel from or back to Kampala," he says.
After the jet race, bungee jumping and water rafting, a guest is treated to spacious meals at the magnificent wild waters lodges. The beautiful scenery at the lodges and rare setting provides another experience that no guest will leave before paying $250 (about Shs 650,000) to spend a night.
The 1km raised wooden walkways connecting the rooms with the restaurant, bar and swimming pool in a forest naturalistic setting with rear birds squawks and a beautiful River Nile falls view leave lasting memories to a guest.
Although various prices have been tagged on different adventures, a person can take on one challenge or do them once for one day to five leaving Jinja concurring that 'Uganda is a Perl of Africa'.
Related Posts